BANDSAW MILL Wirex CZ-1/ZM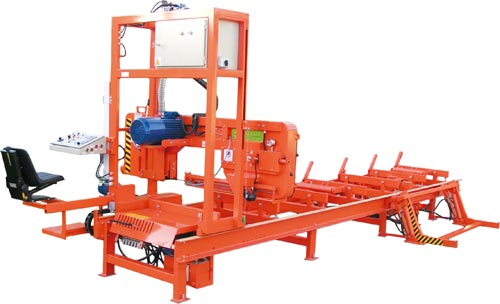 This machine is designed for processing log. Efficiency of machine is dependent on size of cutting log and average amounts 1÷1,5 m3/h raw material
Maximal diameter of processing log 100 cm
Length of cutting in standard 5,1 m
Power of main engine 11 kW with electromagnetic brake
Demand of power 12kW
Power supply 400V (3 phases)
Vertical mechanical feed
Horizontal feed smoothly controlled (inverter)
Feed speed 4-20 m/min.
Length of blade 4818 mm
Hydraulics:
Loading ramps
Peevy of log
Log clamp
Two rolls to level tapered log
Set of resistor frames
Measurements:
length 6000mm
width 2300 mm
height 2650 mm
Total weight 1700 kg
Good resistance - tough
Easy to use - easy set-up and operating techniques.
Handy blade height adjustment
Compliance with standards of TÜV
Optional equipment:
Thickness of cut driver ISP-07
Debarker
Bed extension 3 or 6 meters
Operator seat
Engine 15 kW
Bandsaw blades
Sharpener for band saws
Manual or automatic setter for band saws
Ask offer or technical information: info@aiataht.ee

Phone: (+372) 53803495 Phone: (+372) 5150688
The following video about model CZ-1 / ZM NEW (news from autumn 2015), which is an updated version of the model CZ-1 / ZM. Both models are available for customers in the product range.